Veneers – Sterling Heights, MI
A Comprehensive Way to Beautify Your Smile
Even if you aren't born with perfect pearly whites, it doesn't mean you have to settle for a grin you aren't proud to show off. Our team at Forever Young Dentistry wants to help every patient feel confident about their teeth, which is why we offer treatments like veneers to beautify your smile. Whether you're struggling with pesky stains or need to fix any chips or cracks, we can provide you with either porcelain ones (which require a few appointments) or create bonded ones in just a single visit to address most imperfections! Keep reading to learn more about veneers in Sterling Heights or give us a call today to schedule your initial consultation.
Why Choose Forever Young Dentistry for Veneers?
Advanced & Modern Dental Technology
Provides One-Visit Veneers In-House
Offers Alternative Financing Options
What Are Dental Veneers?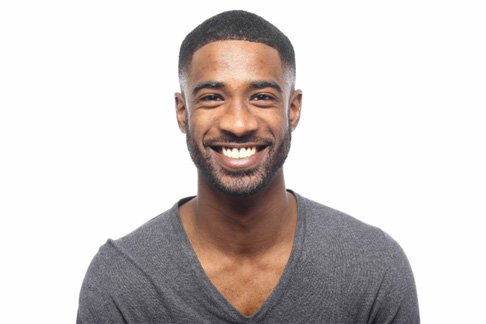 A typical dental veneer is a thin shell made out of tooth-colored material that is designed to be placed over the front side of a tooth to cover up dental flaws. This treatment can mask multiple imperfections at once, including chips, cracks, stains, gaps, or misshapes. Your veneers will be constructed out of porcelain and ceramic, which will closely mimic your natural tooth enamel. Not only are these materials strong, but they'll also offer a virtually permanent whitening solution for your smile.
The Process of Getting Veneers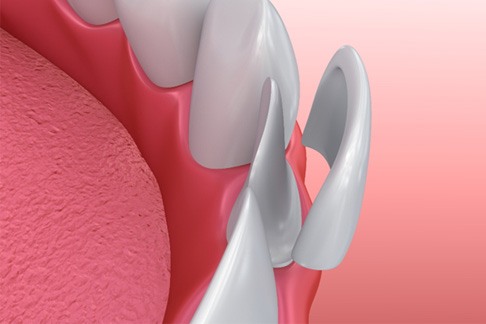 During your initial consultation, our team will first discuss your smile goals and walk you through how veneers can help you achieve your desired results. If we determine that you're eligible for the treatment, we can begin the traditional process by removing a tiny amount of your enamel from the front side of your affected tooth or teeth. We'll then take impressions of your smile and send these to a dental lab for fabrication.
While you wait for your final layers, we'll provide you with temporary veneers to protect your teeth and serve as a "trial run." Once your permanent ones come in, you'll come back to our practice to receive them. After verifying that the results are functional, comfortable, and to your liking, you'll be sent on your way to enjoy your brand-new smile. If you want a quicker treatment timeframe, then we may offer bonded veneers that can be created and cemented in place in one visit.
The Benefits of Veneers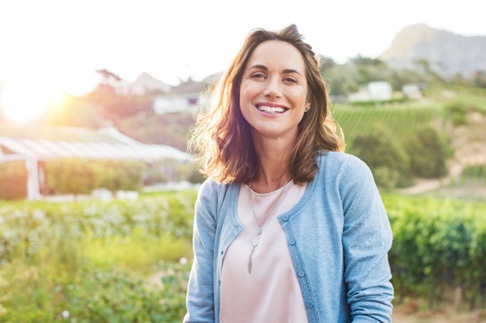 With veneers, you can expect to enjoy numerous benefits to your smile while effectively treating aesthetic dental flaws. Here are a few advantages to look forward to:
Lifelike appearance – By removing a small portion of enamel, your veneers will blend seamlessly with the rest of your smile, providing natural-looking results.
Complete customization – Your veneers will be designed to fit the exact shape, size, and color that will help enhance your smile the way you want.
High-stain resistance – Since they're non-porous, it'll be more difficult for stains to penetrate the surface of your veneers, giving you a nearly permanent whitening treatment.
Long-lasting results – With proper care, you can expect your veneers to last 15 years or more before needing to get them replaced.
Understanding the Cost of Veneers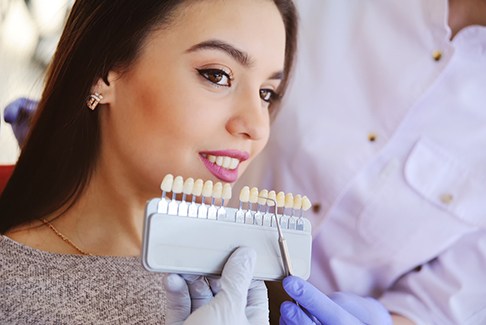 Have you always wanted to create your dream smile? If so, veneers could provide the comprehensive and long-lasting solution you've been looking for. That said, you'll want to understand the overall price of the treatment before moving forward with the process. Since no two cases will be the same, you'll need to visit our team for an initial consultation to determine how much you'll end up paying. We'll also discuss alternative options so that you can compare the results and how they work with your budget. Keep reading to learn more about the cost of veneers in Sterling Heights.
Cost vs. Cosmetic Dentistry: What's Right For Me?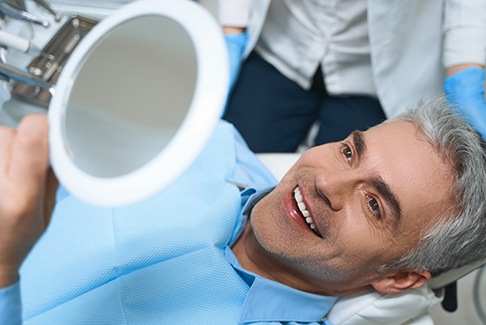 While veneers can effectively upgrade your pearly whites, they aren't the only approach you can take to improve your smile. Our team offers various other cosmetic services that can have long-lasting and incredible results, each with its specific price point. Here are some of the options you should consider:
Teeth Whitening – As one of the most popular and affordable cosmetic treatments, professional teeth whitening can improve the color of your smile in as little as a couple of weeks. While the results are dazzling, this option won't affect the size, shape, or spacing of your teeth like veneers can. You'll also require touchups after several months or a couple of years, which can add to the cost over time.
Dental Bonding – With composite resin, our team can perform dental bonding to quickly and effectively improve minor dental flaws, such as chips, cracks, stains, and gaps. This procedure can be completed in a single visit, but the results will only last several years, whereas veneers can go as far as 15 years or more with minimal dental care.
Invisalign – This is one of the most effective ways to straighten a person's smile. This treatment also comes with a high upfront value, but the results are permanent as long as you wear your retainers. That said, it isn't designed to address dental imperfections other than misalignment.
Veneers – These porcelain shells can conceal most dental flaws simultaneously while providing a near-permanent whitening solution. Though they have a higher price range than other services, their long-lasting and comprehensive results make them a worthwhile investment.
How to Make Veneers Affordable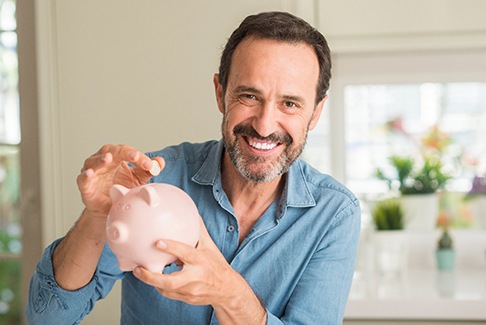 Veneers, like most other cosmetic dental treatments, aren't considered "essential" so they likely won't be covered by dental insurance. Still, you might be able to explore alternative financing options to help make them work within your budget. Our team offers an in-house membership plan that can give you significant discounts on all dental services, including veneers. We also work with CareCredit and Proceed—third-party financiers that can help split the overall price of your treatment into monthly payments with little to zero interest!
Veneers FAQs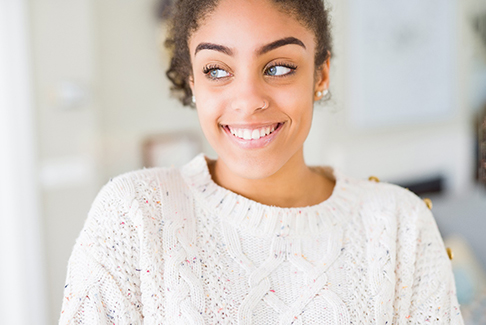 Want to change or fix something about your smile? Are you struggling with dental flaws like chips, cracks, stains, or discoloration in your teeth? If so, veneers can help you achieve the comprehensive results you're looking for. Even so, you may have some concerns about the treatment that you'll want answered before committing to anything. That's why we've collected some of the commonly asked questions we get about veneers in Sterling Heights. Keep reading to learn more or call our office today to schedule your consultation visit!
Can You Whiten Veneers?
While veneers look very much like normal teeth, they are not porous like your natural pearly whites. This means that professional teeth whitening procedures will not help brighten them. The only way to improve the color of your veneers is by getting them shaded or replacing them altogether. If you choose to whiten your natural teeth, this can end up creating uneven color tones due to your veneers not being affected. If you want both treatments done, it's best to begin with teeth whitening and then match your veneers with the same color.
Are Veneers Permanent?
You'll have to replace your veneers eventually, so this cosmetic treatment isn't considered permanent. The only part that's irreversible is that it involves removing a tiny amount of your natural enamel, which will not grow back on its own. Once our team shaves down some of your teeth to make room for your porcelain layers, you'll need to always have it covered with veneers or a dental crown going forward.
Do Veneers Give You a Lisp?
After first receiving your veneers, you might find it slightly challenging to pronounce certain words, phrases, or sounds. This may occur due to your tongue not being accustomed to the presence of your new porcelain layers, even if they have a very tiny difference in thickness. Your muscle memory is enough to influence the way your tongue moves and how you speak. Fortunately, with time and practice, any lisp that you may have developed should be short-lived and will fade after a while. Afterward, you'll be able to speak much more normally.
Will I Still Be Able to Drink Coffee with Veneers?
Veneers are non-porous and highly stain-resistant, meaning it'll be difficult for dark-pigmented particles to penetrate the surface and stain them. For this reason, you should be able to enjoy all your favorite dark foods and drinks—including coffee—without worrying too much about impacting your newly improved smile. That said, veneers aren't stain-proof and can still become discolored through overexposure to dark-colored substances. To avoid this kind of complication and make the most of your pearly whites, make sure to enjoy these kinds of drinks and treats in moderation.