Dentures – Sterling Heights, MI
Replace Your Missing Teeth with Reliable Prosthetics
When you lose teeth and don't replace them, it doesn't just affect your image – it also increases your risk of having health problems that are a result of poor oral hygiene. Good thing there is a method to replace teeth that not only treats potential dental issues but also gives you a great smile. That option is full and partial dentures from our Sterling Heights, MI cosmetic dentist! Contact our team today to learn if you're a candidate for these reliable prosthetics.
Why Choose Forever Young Dentistry for Dentures?
Same-Day Dentures Available
CT/Cone Beam Scanner for High-Resolution Imaging
In-Network with Many PPO Dental Insurance Providers
Who's a Good Candidate for Dentures?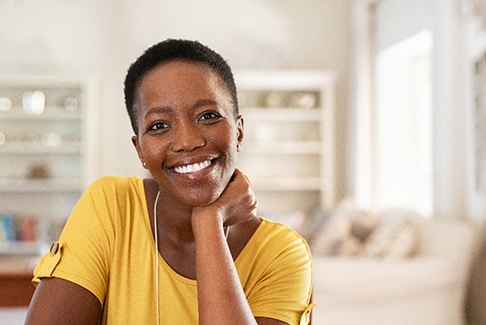 Whether you're missing a few teeth or don't have any of your natural teeth left, you may be a candidate for dentures! Of course, the best way to determine if this tooth-replacement solution is ideal for you is by scheduling a consultation with one of our talented dentists. From there, Dr. Young or Dr. Samona can conduct an oral exam and ask a few questions to learn more about your smile goals. With this information, they will be able to determine if dentures are the best option for you. To learn more, simply click on the button below!
Effects of Missing Teeth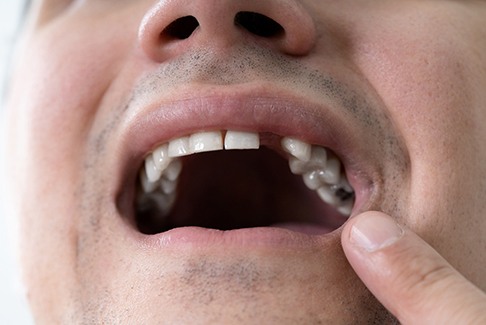 Missing teeth can be attributed to various factors, as highlighted by the American College of Prosthodontists. Tooth decay (a result of poor oral hygiene and untreated cavities) can lead to tooth loss over time. Additionally, gum disease can cause weakening and eventual loss of teeth. Traumatic injuries, such as accidents or sports-related incidents, can also result in missing teeth.
Replacing missing teeth is incredibly important due to the potential risks. Apart from the obvious aesthetic concerns, tooth loss can lead to facial sagging, as the jawbone may deteriorate without the support of teeth. Difficulties in speaking and chewing can also arise, which can significantly affect one's overall quality of life. Moreover, patients with missing teeth may experience a decline in self-esteem, impacting their confidence and social interactions.
What Qualifies You for Dentures?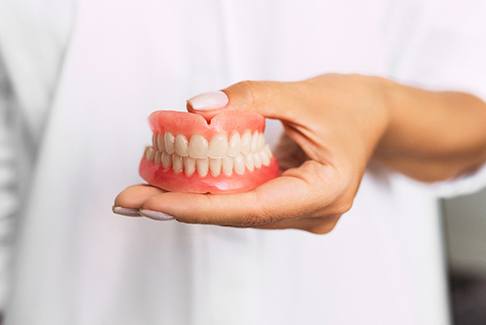 There are many factors that make you a viable candidate for this method of tooth replacement. Firstly, dentures are well-suited for patients that have experienced significant tooth loss, whether due to decay, sensitivity, or other dental issues.
Additionally, the presence of sufficiently healthy gum tissue and jawbone is crucial for the success of dentures. Commitment to a proper dental health routine and diligent care of dentures are other essential requirements for those seeking this solution. Notably, dentures are an affordable tooth-replacement method, making them an attractive option for those on a budget.
Alternative Tooth-Replacement Options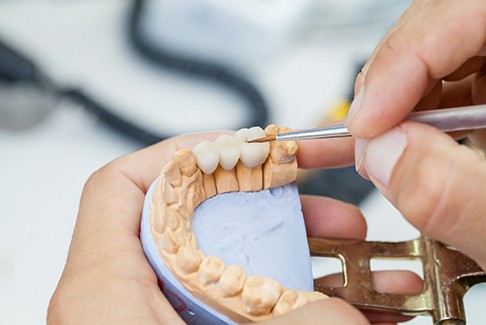 Not a good candidate for dentures in Sterling Heights? That's okay! We offer other tooth-replacement solutions that you're happy to explore:
Dental Bridges: If you're only missing one or a few teeth, you can replace these gaps with a dental bridge. However, this option requires healthy teeth surrounding the missing tooth.
Dental Implants: For a more durable solution, you may want to consider getting dental implants. These titanium posts are surgically inserted into the jawbone, providing unmatched stability. While this option is more costly than dentures, you can enjoy long-lasting results!
Learn More About Dental Bridges
Types of Full Dentures
There are many options for replacing teeth, and each method has its pros and cons. All of these restorative dentistry options should be considered when choosing your tooth replacement option, including dentures. There are a few different types of dentures we offer at Forever Young Dentistry such as full and partial dentures as well as same-day and implant dentures.
Traditional Full Dentures
Once your gums are healed after tooth extraction or loss, we can place your full dentures that will be customized to fit your mouth. These dentures are carefully crafted to resemble and also function like natural teeth.
Implant Dentures
The most secure option is implant dentures because they're attached to your jaw. Typically, the upper jaw will need more implants because the upper jawbone's density is not as good. Many patients who choose this option find it is the most comfortable, stable type of denture.
All-On-4 or All-On-X Implant Dentures
These dentures are used when you have had implants placed and are waiting for your permanent restoration. These dentures won't fit as well as your final option because they are just temporary. Once your gums are healed and finished shrinking, your permanent denture will be placed.
Types of Partial Dentures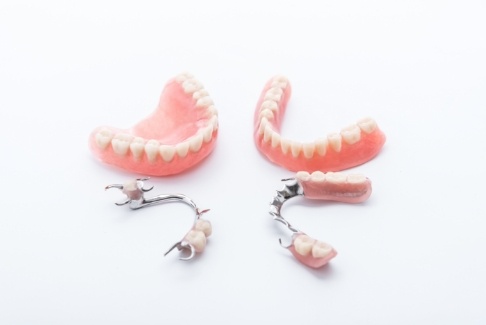 If you still have a few of your natural teeth left, then we have a solution that can preserve them while seamlessly filling the gaps in your smile: partial dentures. Here are a few of the options we offer our patients in Sterling Heights:
Same-Day Partial Dentures
Partial dentures are less expensive and removable. They are meant to temporarily replace your teeth until a permanent restoration is ready. Once your gums have healed, your finalized tooth replacement will be put into place.
Removable Partial Dentures
These dentures are often made from a Vitallium alloy instead of plastic. They are light and don't get in the way as plastic dentures can, and they fit perfectly to the point where you can be confident in your smile again.
Implant Partial Dentures
Implant partial dentures are a great option because they anchor to your jawbone, preventing bone loss and providing additional strength. Plus, they are custom-made for each patient, and they can last for several decades with the right best practices in place!
How Dentures Are Made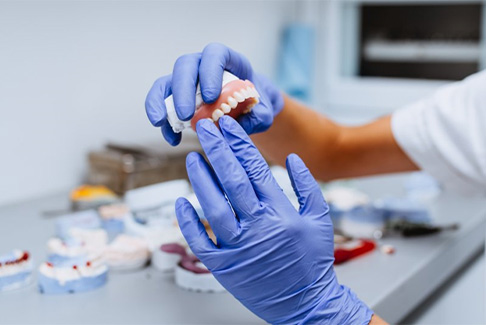 While you can expect your dentures to be specifically tailored to your smile, you might wonder how the process goes for creating them. Knowing what materials are used and how they're constructed might add another level of appreciation for your new pearly whites when you get them. Keep reading to learn about the denture creation process.
What Are Dentures Made Of?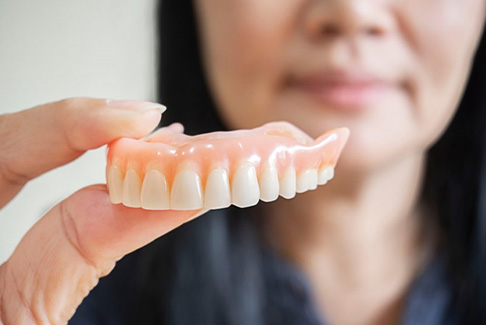 Dentures are typically made up of two components: the base and the artificial teeth. They are generally comprised of the following:
Denture base – This is the gum-colored structure that is designed to hold your new teeth in place while remaining sturdy upon your gumline. The foundation can be fabricated from various materials, such as nylon, resin, and acrylic. A full denture will usually be made out of acrylic due to its ability to mimic your natural gums. Partial dentures, however, will contain metal clips in the acrylic base (or sometimes nylon), that will clasp onto nearby teeth.
Artificial teeth – These are the pearly whites that will be attached to the base, which are generally constructed out of resin or porcelain. Though both can mimic your natural enamel, the latter is most often used because of its enhanced durability.
The Denture Creation Process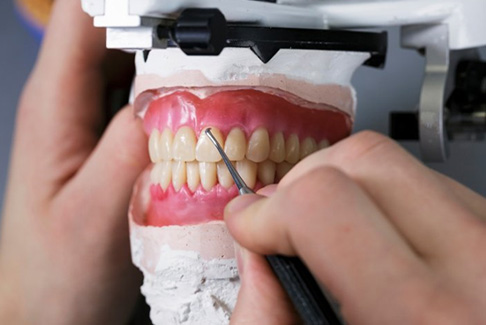 Traditional dentures usually involve a multi-step process to ensure successful results. First, your dentist will take impressions of your upper and lower gums so that they can develop a plaster model that replicates your mouth. They may also take measurements of your jaw and then send this cast to a dental lab for fabrication. There, the technicians will create a wax replica of your gum line and then place the artificial teeth (usually made of acrylic resin) using a mechanical device called an articulator. The lab technician will make any minor necessary changes to the wax to ensure it matches your gums. These wax dentures will be sent to your dentist for a fitting, and if it looks good, they'll return them so the dental lab can continue the final process.
At the lab, the technician will boil the dentures to remove the wax. They'll first place them in a flask to hold the dentures while the plaster is poured within to maintain the shape of the prosthetics. The flask is then set in hot water to melt the wax off. Afterward, holes will be made in the teeth to allow the material to attach to them, and a liquid separator is used on the plaster layer to keep the acrylic from sticking to it. Acrylic will then be used to replace the wax portion. The plaster will be removed to reveal the denture which is then placed in an ultrasonic bath to extract any remaining plaster. Once the product has been trimmed and polished to perfection, it'll be sent to your dentist. They'll check how they fit in your mouth, make minor adjustments if needed, and then confirm if the results are satisfactory.
Adjusting to Your New Dentures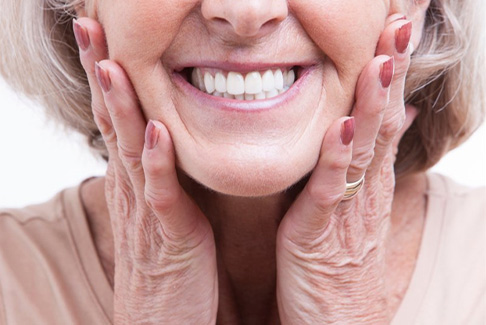 It's normal to feel some soreness or discomfort when first wearing your dentures, as your gums will need to get accustomed. Even so, this condition should only be temporary, and your new teeth should start to feel more natural with time and practice. To help make this process smoother, stick to softer meals and exercise your facial muscles regularly. Call our team if you notice any discomfort that won't go away, and we'll be happy to help.
Benefits of Dentures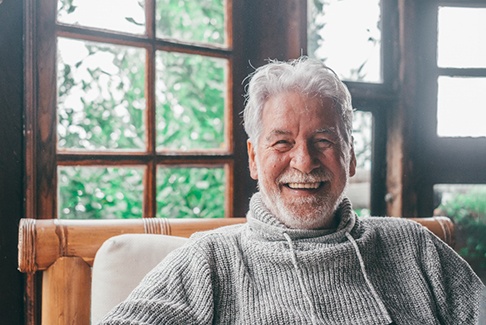 Missing multiple teeth can make it much more challenging to get through the day. Eating, speaking, and smiling are important, but tooth loss makes them much more difficult. Dentures are a life-changing tooth replacement option that restores the appearance and function of your smile, giving you your confidence back! Here are some of the numerous benefits you can get with dentures.
Psychological Benefits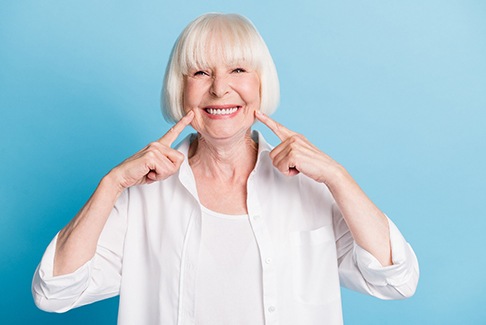 People who don't have any teeth often have difficulty coming to terms with tooth loss. This can make one less likely to engage in social activities and put them at higher risk of experiencing sadness and depression. By restoring the appearance and function of the smile with dentures, a boost in confidence is likely to come with them.
Clearer Enunciation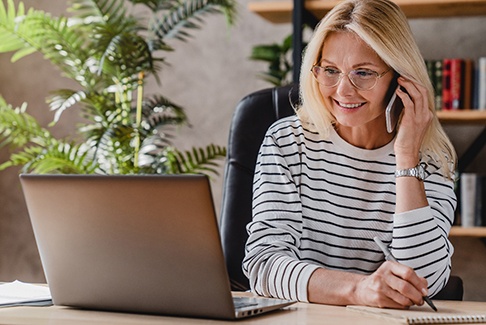 Missing teeth makes it more difficult to enunciate your words properly. In order to pronounce different words and make certain sounds, your lips, and tongue need to be positioned properly. Without being able to touch your tongue to your teeth, some words are very difficult to say. Dentures act as your missing teeth, allowing you to speak more clearly. After a little bit of practice, you will be talking just like you used to.
Improves Nutrition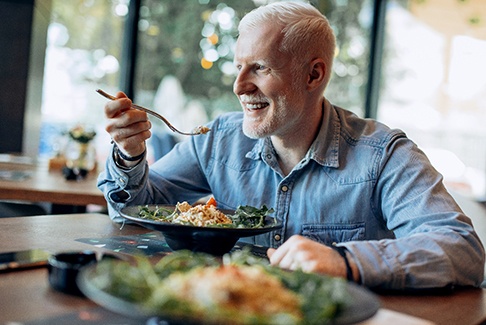 Many foods that are good for you are tough in texture. This includes vegetables, fruits, and healthy proteins. When you can't chew very well thanks to tooth loss, you can experience issues like indigestion and malnutrition. With an improved ability to chew, dentures allow for a more expansive diet full of nutritious foods. This way, your body can receive the essential nutrients it needs to thrive.
Preserves Oral Health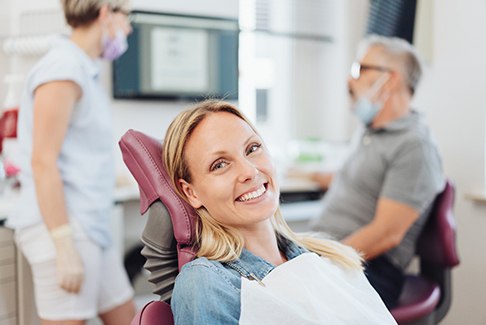 If you still have some remaining natural teeth, getting dentures can help to prevent them from shifting around. Dentures also bear some of the weight of regular chewing, reducing the wear and tear of your existing teeth.
Expands Opportunity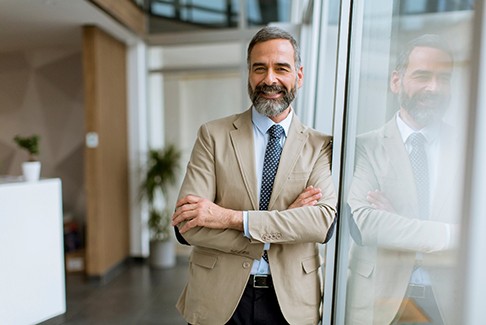 Your smile is one of the first things that people notice about you, and this is very important when it comes to job interviews, sales, and getting promotions. It is crucial to make a great first impression, and having a complete smile is nothing but an advantage!
Placing Your Dentures At Forever Young Dentistry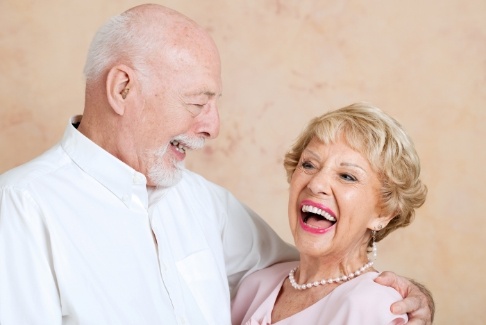 Some dentists may fit you with your dentures and send you on your way with loose or ill-fitting prosthetics, making you wish you'd gone to another dental office. When you have your dentures placed at our Sterling Heights, MI, dental office, you can rest assured that they will fit you to perfection.
Understanding the Cost of Dentures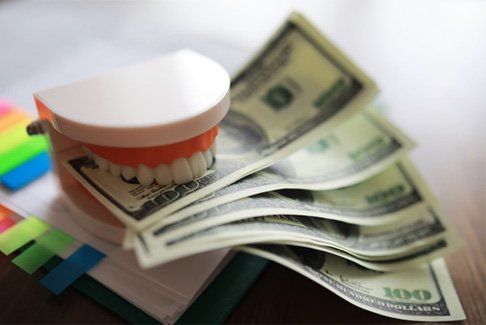 Making the decision to invest in dentures in Sterling Heights is a big deal, and our team at Forever Young Dentistry wants to make the process as transparent and streamlined as possible. That's why we are proud to be in-network with most major dental insurance PPO plans as well as offer other flexible payment options, like CareCredit, Proceed Finance, and our in-house membership plan. If you're concerned about being able to afford replacement teeth, please don't hesitate to speak with our friendly staff. We'll help you find the best payment options that fit your needs.
Factors That Affect the Cost of Dentures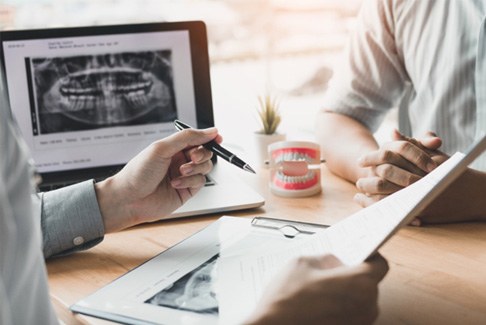 There are several factors that will go into the final price of your full or partial dentures in Sterling Heights. These can include:
Whether you'll require any preparatory treatments, like gum disease therapy or a tooth extraction.
The number of teeth that you're missing, which will determine what type of prosthetic you need.
What materials you'd like your denture to be made from, like porcelain, ceramic, or acrylic.
While choosing the least expensive option may sound like the best decision for your wallet, it could leave you with a prosthetic that doesn't serve you in the long-run, causing you to just need a new one a year or two down the road. Because you'll be using your denture every day, it's always best to invest in getting it to look and feel exactly how you want it to.
Are Implant Dentures More Expensive?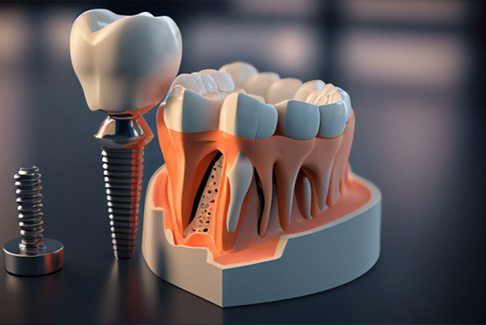 While implant dentures do have a higher up-front cost than traditional ones, they offer a variety of benefits that make them an overall better long-term investment. Because they preserve the jawbone structure, you're less likely to have fit issues with your dentures over time, leading to a much longer lifespan of 25 or more years! That means that you won't need to have your prosthetic replaced every seven or so years, leading to fewer dental visits and costly additional treatments.
Does Dental Insurance Cover Dentures?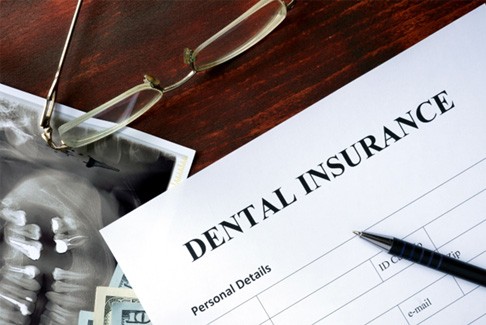 Most dental insurance plans cover at least a portion of the cost of dentures, usually around 50 percent. Our practice is proud to be in-network with most major PPO dental insurance plans as well, helping our patients maximize their savings and minimize out-of-pocket costs. If you have questions about your policy's benefits or how your plan works, don't hesitate to contact us!
Other Options for Making Dentures More Affordable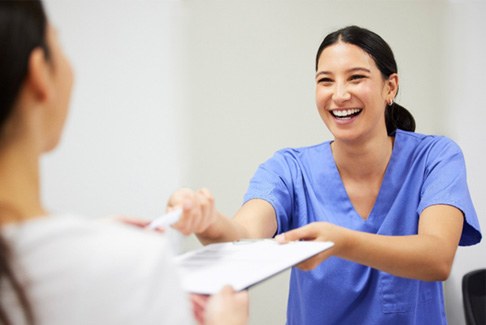 In addition to accepting and maximizing dental insurance, we also offer an affordable in-house membership plan as well as additional flexible financing through CareCredit and Proceed Finance. That way, you can split the cost of your treatment into smaller, more manageable monthly payments.
Dentures Aftercare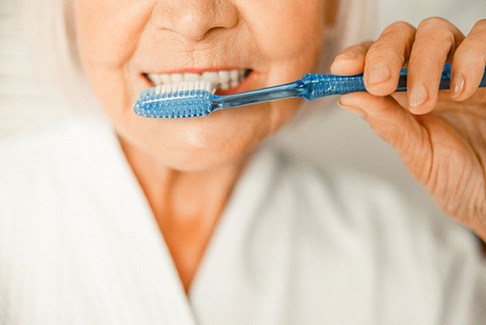 After receiving your dentures, ensuring proper maintenance is key to maximizing their lifespan. While removable traditional dentures typically last around seven years, both implant and All-on-4 dentures have an impressive lifespan of 35 years or more. By storing them in a secure and suitable location, maintaining regular cleaning, and scheduling routine checkups and cleanings with our team at Forever Young Dentistry every six months, you can ensure they last as long as possible.
Removable Dentures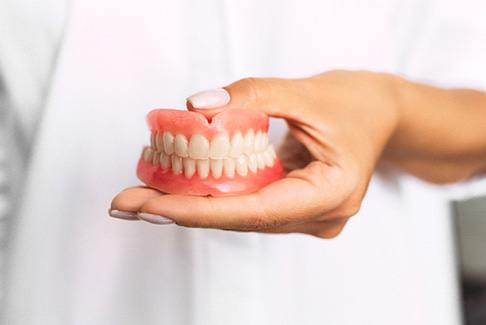 Removable traditional dentures come in two main designs: full and partials. Partials, held in place by existing teeth, require less maintenance and don't need to be stored in water. Our team will provide specific maintenance instructions for your restoration.
Remove After Eating
After meals, remove your full or partial dentures and rinse away any food debris to prevent bacterial buildup. Otherwise, the accumulation can lead to oral health issues like gum disease or additional tooth loss.
Clean Your Restoration
Clean your dentures thoroughly twice a day with a soft-bristled or denture-specific toothbrush and toothpaste. Avoid using hot water or regular dental hygiene products to prevent warping and damage.
Keep Your Dentures Safe
For full dentures, store them in room temperature water when they're not in your mouth. For partials, use the provided protective case to prevent loss or damage.
Remove When You Sleep
It's crucial to remove full dentures before bedtime to give your gums and facial muscles a break. This will help prevent discomfort and oral sores. Plus, you'll need to remove them before bed for a thorough cleaning anyway.
Notice Changes
On average, dentures are designed to last around seven years. If your oral appliances no longer fit properly after this time, contact us for potential adjustments or replacements. We'll examine your prosthetic to determine whether we need to reline or replace them. That way, we can ensure they function just like they're supposed to.
All-on-4 Dentures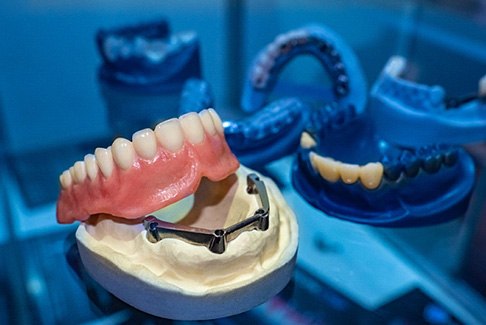 Unlike traditional dentures, All-on-4 dentures are permanently anchored using four dental implants. Since they're not removable, you can care for them like natural teeth. Brushing twice a day, flossing daily, and rinsing with an ADA-approved mouthwash are good practices to follow. Don't forget to schedule routine checkups as well. We'll make sure your prosthetics and implants remain in tip-top shape!
Denture FAQs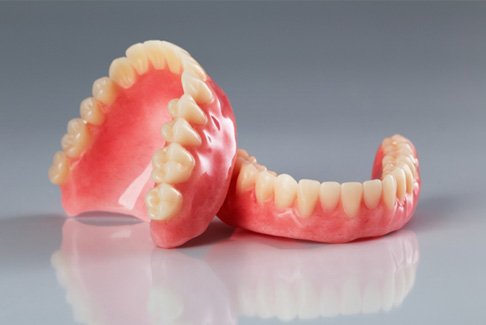 Can I Sleep with My Dentures?
We would heavily recommend taking your dentures out each night to give them space to breathe. Wearing your dentures puts a lot of pressure on your gums, which can cut off circulation in your mouth. It's important that your gums have time to rest.
This also affords you an opportunity to disinfect your prosthetic, which can be done with a denture soaking solution. If you don't take this chance, you could wind up with gum disease or infections beneath your prosthetic.
Is It Hard to Talk with Dentures?
When you first get your prosthetic, it's natural to have a little bit of difficulty speaking properly. However, with a little bit of practice you should be able talk as well, or better, than you were able to before you got them.
Typically, patients deal with a little bit of a lisp when they first begin wearing their prosthetic, so if you notice that certain words are especially problematic for you, practice saying them in particular until you feel comfortable.
Will Dentures Change the Shape of My Face?
Your teeth do more than just chew—they support the muscles on your face, making your cheeks look full and youthful. Without them, your face can start to sag and develop wrinkles.
Dentures can take on the work of the teeth in supporting the muscles on the face, giving you a younger and healthier appearance than you may have had without them.
How Are Dentures Fixed If They Don't Fit Properly?
It's common for dentures to need to be fixed in order to fit the jaw better, as the jaw may begin to shrink over time. For minor repairs, we may do a soft reline, which involves just adding a little bit of material to the dentures so that they fit better. For more extensive changes, we'll send your prosthetic to a separate lab for a hard reline.
If you find that you're getting more denture sores than usual, or if your prosthetic is falling out often, it may be time for a reline.