Advanced Dental Services & Technology – Sterling Heights, MI
Where Accuracy and Precision
Meet Greater Comfort
Dental technology has come a long way, and our dental office is committed to providing only the best, most advanced equipment and technologies to his dental patients. In fact, the advanced dental serivces technology at our Sterling Heights, MI dental office is one thing that sets us apart! This is why he is pleased to outfit his dental office with solutions that offer improved accuracy and precision for treatment planning and dental procedures. From digital impressions and intraoral cameras to a cavity detection system and CT/Cone Beam Scanner, we have more technology than most dental offices in the area.
Committed to State-of-the-Art &
Comfortable Dental Experiences
No-Mess Digital
Impression System
Greater Accuracy with CT/Cone Beam Scanner for Treatment Planning
Easily Identify Decay with Cavity Detection System
Intraoral Cameras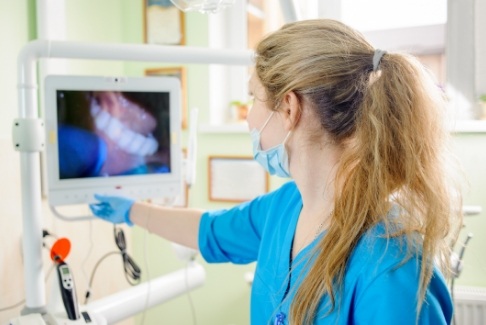 With the Smartmouth intraoral camera, we can help patients see what we see during an appointment. This small, handheld device uses a tiny camera to capture multiple images of an individual's teeth and gums, projecting them onto a nearby screen. Our team can then identify problem areas and readily explain the reasons for recommended treatment. Painless and easy to use, we make it easier for patients to understand the details of their oral health.
All-Digital X-Rays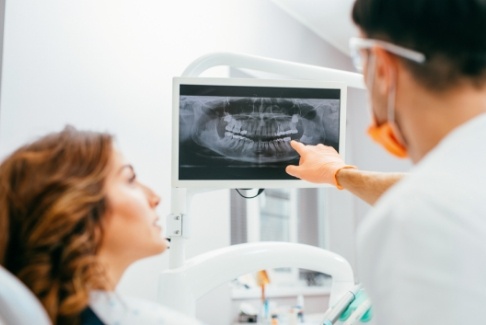 Unlike traditional radiographs that take time to develop and emit higher levels of radiation, our Planmeca digital intraoral radiography allows us to safely capture high-resolution images of a patient's mouth. This ensures more accurate treatment planning while emitting up to 90% less radiation. Also, by using all-digital X-rays, we can easily store the images and quickly refer to them throughout your oral health journey.
3D Cone Beam Imaging
When preparing for dental implant placement or any other complex dental treatment, our 3D Ultra Low Dose CT/Cone Beam Imaging system is our go-to technology. Capturing a 360-degree scan of an individual's head, we can easily see the teeth, gums, bone, tissues, nerves, and other structures that make it possible to accurately prepare treatment plans and minimize the recovery times of many extensive dental services. The biggest benefit is that these images are much more diagnostic than traditional 2D radiography, and the exposure is significantly lower. This allows us to better diagnose conditions.
Digital Impression System
We never want patients to feel messy while at the dentist's office. One way of addressing this issue is by using a digital impression system. Instead of cold dental putty, this new device quickly scans a person's mouth and uses the images to form a three-dimensional model on a nearby computer screen. The images are then used to create customized restorations that are lifelike and comfortable to wear.
Cavity Detection System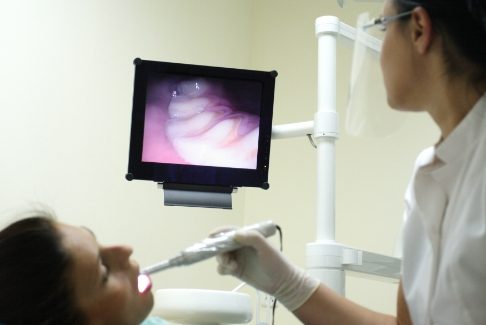 Identifying cavities early on is one of the most effective ways to minimize potential dental fillings, crowns, and other customized restorations. we can do this by using the Cariosity Tip with Planmeca, which is a cavity detection system. Using the handheld device, we can scan a patient's teeth to check for any cracks and dental caries that may be in their early stages. This system is pivotal for early diagnosis and effective treatment.
3D Printing
When patients are preparing for dental implant placement, we can make the process much easier by using 3D technology and software to plan out the procedure on the computer ahead of time. Using a three-dimensional printed dental implant guide, we can identify exactly where the implant(s) will be placed, which helps to lower the risk of complications and allows for the appointment to be more efficient.
Dental Implant Technology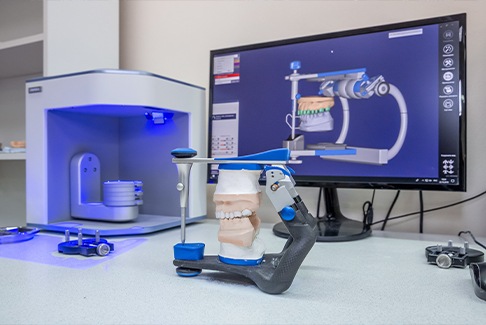 We plan all the implants we place on a computer using 3D CBCT images and intraoral impressions. This is more accurate than the "brain-guided" approach. This reduces risk to the patient, increases the prognosis, and provides for a better restoration. We 3D print a surgical guide from this computerized plan.