Dental Implants — Sterling Heights, MI
Superior Prosthetics for Missing Teeth
With dental implants, our team can easily replace one, multiple, or an entire arch of teeth. Using advanced dental technology and high-quality materials, we can position your smile for optimal functionality, clearer speech, and the ability to enjoy a better quality of life. If you'd like to learn more about dental implants and the impact they can have on your smile, contact us to schedule a free consultation!
Why Choose Forever Young Dentistry for Dental Implants?
Free Dental Implant Consultation
CT/Cone Beam Scanner & Guided Implant Surgery
Titanium, Ceramic, and Zirconia Implants Available
What Are Dental Implants?
Dental implants are small prosthetics that look similar to tooth roots. When placed within the jawbone, they fuse over time through a process known as osseointegration. They create a solid foundation for a metal abutment and customized dental crown, bridge, or denture, which sits atop the post to complete the root-to-crown structure. Dental implants can be made from titanium, ceramic, or zirconia, and are known for their stability, functionality, and longevity.
The 4 Step Dental Implant Process
Our team at Family Young Dentistry is pleased to provide the entire dental implant process in-house, so there is no referral needed. While every patient can expect a different experience, there are four steps everyone must take when receiving dental implants:
Initial Dental Implant Consultation – You will meet with the doctor to discuss your candidacy and if you require preliminary treatments.
Dental Implant Surgery – After receiving local anesthesia, we will use a guide to make the placement of your implants much smoother.
Dental Implant Osseointegration/Abutment – The recovery process typically requires 3-6 months while osseointegration occurs. Once you're healed, you will return to receive your metal abutments.
Delivery of Dental Implant Restoration(s) – The final step is to receive your customized dental restoration.
Benefits of Dental Implants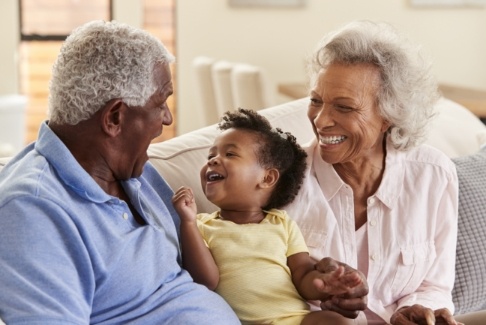 Dental implants are not only considered the gold standard for tooth replacement, but they offer greater benefits than traditional dentures or dental bridges. These can include:
The best long-term prognosis
No increased risk to adjacent teeth
Helps maintain bone strength
Greater jawbone stimulation
A more youthful appearance
Boosted confidence
The ability to eat the foods you love without worrying about your teeth slipping or falling out
Prosthetics that can last 30+ years or even a lifetime with proper care
An easy-to-clean solution that doesn't require soaking
All-on-4 & All-on-X Implants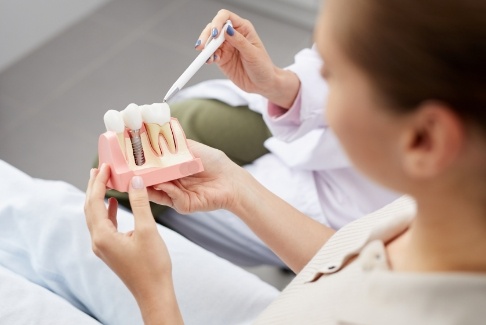 With All-on-4 and All-on-X implants, you can achieve the same great results as regular dental implants but with fewer posts! Even if you've been told you lack the necessary jawbone density, we can use All-on-4 or All-on-X and support a full prosthetic by angling the implants in the bone to create a stronger foundation. In just one day, you can walk in with missing teeth and walk out enjoying a full, complete, healthy smile.
Sinus Lifts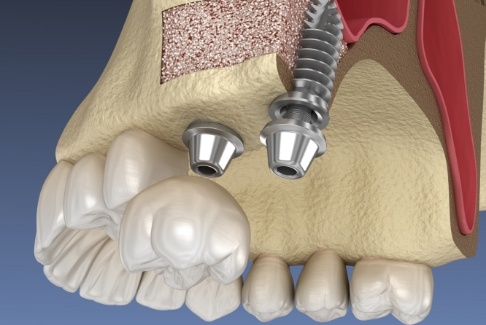 When teeth are missing toward the back of the upper arch, you may need a sinus lift. This outpatient procedure involves lifting the maxillary sinuses and incorporating grafting bone into the area to create an anchor for the implant. Once you've recovered, we will move forward with implant placement.
Bone Grafts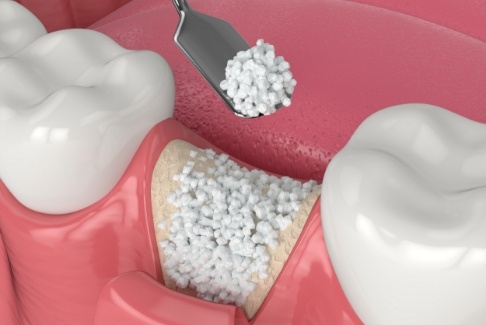 When there is a lack of jawbone in a particular area of your mouth, a bone graft will be necessary. Adding grafting materials from another part of your body or a donor will help to strengthen the area over time, allowing the future implant to fuse with the bone.
Screw-Retained Implants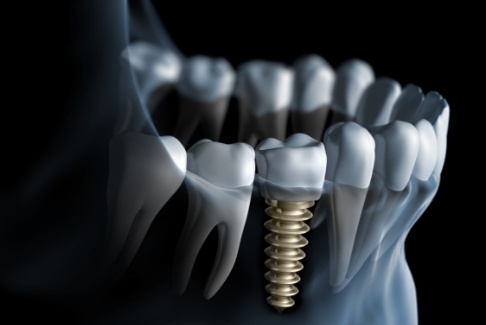 When receiving your customized restoration, we can use screw-retained implants that make it easier to retrieve the crown, bridge, or denture should it need to be removed at any point. And the esthetic materials used to cover the hole prevent others from ever noticing.
Understanding the Cost of Dental Implants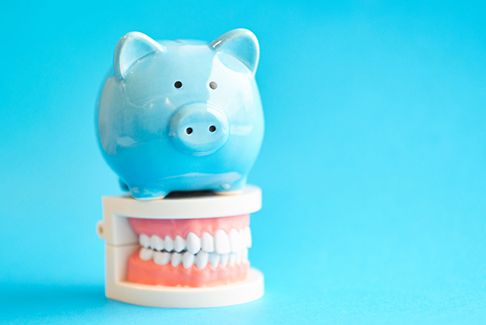 Since every mouth is different, the overall cost of dental implants in Sterling Heights will depend heavily on each patient's specific needs. This tooth replacement treatment does typically come at a higher initial price than other restorative solutions. However, due to benefits like having three times the lifespan of traditional restorations, this option can save you money in the long run. We'll be able to assess your oral health and provide you with an estimate of the price of your treatment during your initial consultation, as well as your financing options. Read along to learn more about the cost of dental implants!
Preliminary Treatments & Dental Implant Surgery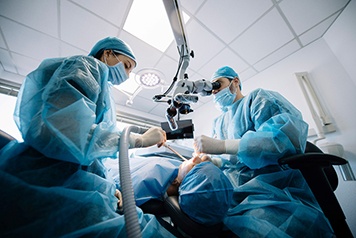 Several factors go into the overall price of dental implants. For instance, we'll first need to see if you're eligible to begin the procedure or if you'll require preliminary treatments, such as a bone graft or gum disease therapy. These processes can add to the final cost of your dental implants, but they'll be essential for ensuring a lifelong tooth replacement solution.
The price of the surgery will also involve a few components. These can include the location in your mouth where your implants will be placed as well as the type of sedation dentistry used. Fortunately, our team is proud to offer the entire dental implant treatment in-house, saving you time, trouble, and money from needing to travel to visit a specialist.
The Parts of Your Dental Implant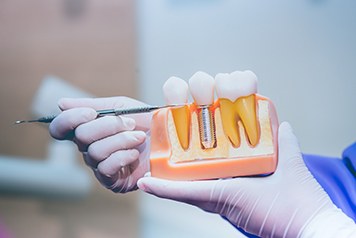 Here are several aspects that can influence the overall price of the dental implants themselves:
Type of restoration – Your dental implants will support custom-crafted crowns, bridges, or dentures, each with its price range.
Size or material – Dental implants can be made of various materials, such as zirconia instead of titanium. Their sizes can also vary, which will significantly affect the cost.
Number of dental implants – The more metal posts you require, the higher the overall price.
Brand of dental implant – Several companies manufacture dental implants, and our team will only use the highest-quality products to effectively restore your smile.
How Dental Implants Can Save You Money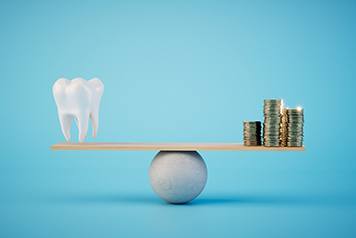 While many patients hesitate to get dental implants due to the higher upfront cost, you should remember that this treatment will typically involve a one-time payment. Unlike traditional restorations which have to be replaced every few years, you can expect your implants to last several decades to a lifetime! In turn, this can save you hundreds of dollars in the long run. You also won't even need to buy special cleaning products or adhesives since your new pearly whites will only require regular dental care to maintain.
Does My Dental Insurance Cover Dental Implants?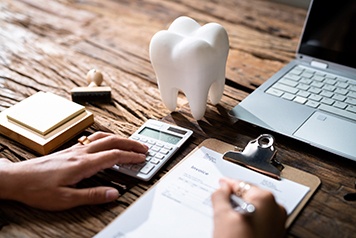 Dental insurance companies don't typically cover dental implant procedures. That said, policies can vary from patient to patient, and some of them can offer coverage for portions and percentages of the process. Your consultation, preliminary treatments, and restoration can typically receive partial coverage. That's why you'll want to speak with your provider or consult our knowledgeable team so we can help you navigate your insurance plan and maximize your benefits.
Making Dental Implants Affordable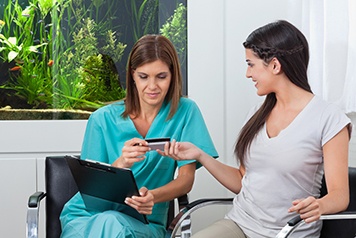 Even if you don't have dental insurance, you may be able to explore alternative financing options. Our team offers an in-house membership plan that can provide discounts on numerous services, including your dental implant procedure. We're also proud to work with CareCredit—a third-party financier that can help split up the overall cost of treatments into smaller, monthly installments. Plus, many of their plans come with little to no interest, meaning you won't have to empty your wallet to receive the tooth replacements you deserve!
Maintaining & Caring for Your Dental Implants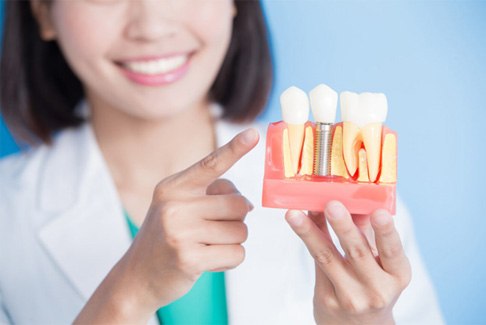 After receiving dental implants in Sterling Heights, you'll feel thrilled at the prospect of having a restored smile for the foreseeable future. However, your implants can only last and function as intended if you're diligent about maintaining them. Fortunately, your implants also don't require any specialized care, and it's quite easy to ensure that they're given a clean environment and capable of serving their purpose for several decades. Here's a quick breakdown of several things you can do to ensure that your dental implants last.
Make Oral Hygiene a Priority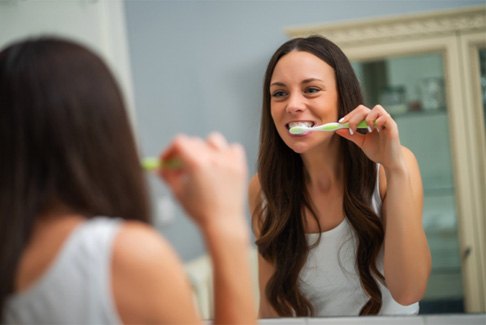 Even though your dental implants themselves can't get cavities, you still need to prioritize your oral care since your remaining natural teeth, gum tissue, and jawbone are all still susceptible to problems. Be sure that you're brushing twice a day, flossing daily, and also rinsing with an antibacterial mouthwash. By regularly cleaning your mouth of debris and bacteria, you're creating a healthy environment for your implants that encourages the posts to remain sturdy and secure for several years to come.
Eat a Healthy Diet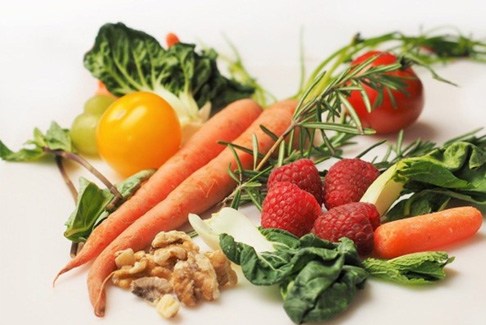 Many patients are thrilled to begin eating all of their favorite foods again after receiving their dental implants; after all, implants are capable of restoring an impressive 80% of one's natural chewing power! That said, it's still wise to consider the dietary choices you're making, as things like sugary sweets can lead to problems for your implants (or your oral health in general) if you're prone to overindulging. Hard or sticky objects can also potentially damage your implants. If you can, add plenty of healthy choices into your diet such as vitamin-rich fruits and vegetables, lean proteins, low-fat dairy products, and more. It's also recommended to drink plenty of water, as it's the best beverage for your oral health and therefore, your dental implants!
Break Bad Habits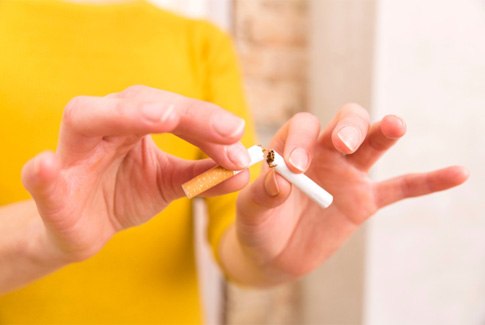 Dental implants are quite tough, but they will not last if you aren't able to break bad oral habits that might harm them. Try to cut the following habits from your life:
Smoking and using tobacco – Smoking can interfere with osseointegration (the fusion between implant and jawbone) and make your teeth vulnerable to infection, both of which increase the risk of dental implant failure.
Using your teeth as tools – Holding objects with your mouth or using your teeth as tools to open packaging is a surefire way to damage your implants.
Chewing on hard objects – Biting hard items like fingernails, pens and pencils, and even ice cubes can quickly wear down the surfaces of your dental implants or possibly damage them.
Protect Your Dental Implants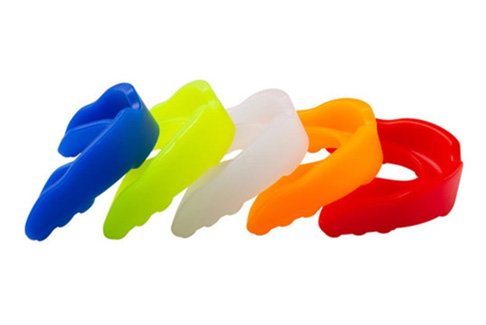 If you participate in sports or physical activities where there's an increased risk of facial trauma, you should consider investing in a mouthguard to protect your implants. These nifty devices are easy to use, effective against hard hits, and quite comfortable to wear. If you're susceptible to bruxism, (teeth grinding), you can also request a custom nightguard appliance; if unaddressed, bruxism can lead to your implants wearing down and loosening over time.
Schedule Regular Dental Checkups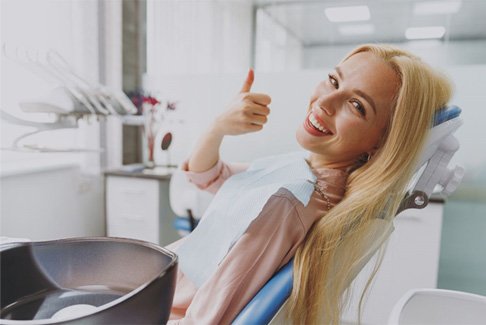 Regular preventive dental care is undoubtedly one of the best ways you can ensure the integrity of your dental implants moving forward. Visiting us twice a year will allow us to inspect your implants for underlying oral health issues so that you can rest assured there's no threat to your newly restored smile. Gum disease, for example, often poses a serious threat to implants as well as the surrounding mouth tissue—but it's easily mitigated through preventive dental care!
Dental Implant FAQs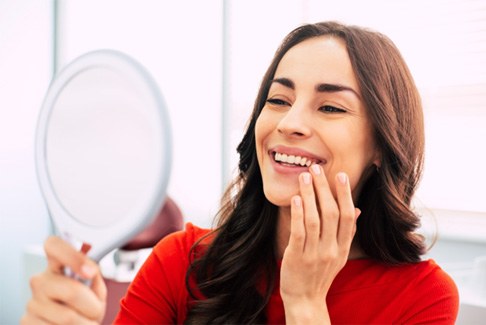 Dental implants are considered by many dentists to be the modern gold standard for replacing teeth. If you are thinking of using dental implants to rebuild your smile, get in touch with our team today! We'll answer any questions you might have about the implant process so that you can decide whether it's the best choice for you. For your convenience, we have answered some of the questions we've commonly heard in the past down below.
How Long Do Dental Implants Last?
The answer will vary depending on your overall health and the kind of care you give your implants regularly. To help your dental implants last as long as possible, remember to brush, floss, and rinse at least twice a day. You also need to keep up with your regular checkups and cleanings so that we can identify and address any problems before they put your implants at risk. With the right maintenance, dental implants can last for three decades or more – far longer than traditional bridges and dentures.
Does Getting Dental Implants Hurt?
While dental implant placement does require surgery, your mouth will be numbed with a local anesthetic to keep you comfortable. Sedation can also be used to further reduce your ability to register pain.
After the procedure, you can usually expect your mouth to be sore for a few days. If need be, you can manage the discomfort with over-the-counter or prescription pain medication. You can also hold a cold compress against your jaw for 15 minutes at a time. Your pain should start to improve after two or three days; if it gets worse instead, call our office immediately so that we can figure out what steps you need to take next.
What Can Cause Dental Implants to Fail?
Dental implants have a success rate of over 95%, but it's still important to take note of the risk factors that can lead to failure. Usually, the problem is related to peri-implantitis, which is a type of gum disease that can damage the bone and gum tissue supporting the implant post. In other cases, your implant might fail to join with your jaw; this can happen if there isn't enough bone density in the area.
The good news is that implant failure is avoidable. We'll take a number of precautions to ensure your procedure is a success, and we'll give you guidelines for taking care of your implants afterward to lower the chances of any problems occurring.
What is the Right Age for Dental Implants?
If a dental implant is placed in a jaw that hasn't finished growing, it could interfere with bone development. For this reason, dental implants are not recommended for children. The minimum age is usually 18, but some patients may have to wait until their mid-20s for their jaws to be developed enough for implant surgery. There isn't an upper age limit for dental implants, but it should be noted that seniors are more likely to suffer from health issues that can interfere with the implant process.